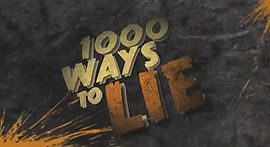 Template:Infobox television
1000 Ways to Lie is a spin-off and satire of the television series 1000 Ways to Die. It recreates intricate lies that people have told, as well as how, and what happened when they were found out. It also includes interviews with experts who describe the science behind each lie. The show first aired on Spike on March 3, 2010[1].
Stylizations
Edit
The first thirteen episodes of the series parody 1000 Ways to Die by telling the location and date with a border that has the words "Liar", "Deception", "Greed", "Money", "Shame", "Secrets", and "Betray" surrounding a picture of the incident. At the end of each summary, there is another picture of the incident, and the "Way to Lie #" and the nickname for the incident typed over the image in yellow "Sin City" font, mocking the "1000 ways to Die" presentation. At the beginning of the episode there is a sped-up voice over that is merely the voice over from "1000 Ways to Die" with a few words changed around:[2] </blockquote>"WARNING:' The stories portrayed in this show are based on real scams and depict illegal activities."
"Names have been changed to protect the guilty...and the gullible."
"Do not attempt to try ANY of the actions depicted."
"YOU CAN BE ARRESTED AND/OR PROSECUTED!"</blockquote>
The disclaimer then cuts to animation while the voice-over reads (note: only the ALL CAPPED words are illustrated):

"Everybody lies, and everybody gets lied to...We lie to get ahead, we lie to get the girl, and to keep our secrets. Whether motivated by greed, ego, or criminal intent, just when you think you've heard it all, there are 1000 WAYS TO LIE."
==Season 1==



Episode 1: Natural Born Liars
Edit
Originally aired March 3, 2010
Edit
Lie#
Event Name
Date of Event
Location
Circumstance
333
The Unaboober
April 2006
Bixville, California
A woman addicted to Heroin plans to smuggle Mexican Heroin in her breast implants. On her way to the border, she extracts some of the heroin from her breasts with a needle to get high, unknowingly spilling it all over her shirt, and is subsequently apprehended by the border patrol.
256
Phony Five-O
October 2007
Carmon Village, Illinois
A recently paroled convicted felon wants to fulfill his childhood dream to become a police officer, but because of his record, he has to falsify his records to become one. Even though he is successful in apprehending numerous criminals, he is eventually ratted out by an ex-con friend of his and arrested by the FBI.
178
Not So Sick Rick
September 2008
Henrietta, Texas
A man tells his shrewish, nagging wife he is dying of pancreatic cancer so he could get away from her, get her to stop nagging, and go out partying with his friends at strip clubs. He is exposed when his wife, skeptical of his story due to how much partying he was doing, calls the hospital and finds out that he doesn't have cancer. Instead of divorcing him, she makes his life even more miserable than ever.
691
Bunnies in the Oven
May 1991
Leesburg, West Virginia
A young woman schemes with her husband to make claims that a male rabbit impregnated her and that she reportedly gave birth to little bunny children. The couple had the townspeople fooled, but not the county medical examiner who saw the woman stick the bunnies into her vagina and tells the townspeople. The couple is ordered to pay all the money back and leave town immediately.
212
Hey Dad Nice Rack
October 1935
St. Louis, Missouri
A female jazz musician wants to blend in with the popular male musicians, so she hides her identity by wrapping her breasts tightly and wearing a strap-on dildo at all times. 17 years later while having sex, she suffers a near heart attack. The woman she is having sex with opens her chest to reveal the truth, much to the surprise of the musician's adopted son.
884
Smooth Operator
October 1968
Da Nang, Vietnam
A con artist who specializes in false identities is drafted into the Vietnam War. During the war, he steals the ID tags of a deceased army surgeon and inadvertently takes up the responsibility of amputating the limbs of wounded soldiers. The con artist is surprisingly competent at his job and when confronted by the parents of the dead surgeon, he concocts a story that results in him being revered as a war hero.
Episode 2: Clone Wars
Edit
Originally aired April 10, 2012
Edit
this episode has six lies.
Lie#
Event Name
Date of Event
Location
Circumstance
12
Lie-r Paper
May 2011
Norway
a norwegion person lied to one of the same country they live in and lied.
913
To Be Lied
June 2003
Canada/New York
a new york person lied and lied and LIED.
14
Cluber Duber
October/November 2011
Japan
a japanese cat did nice feeding himself so nicely and a person lied.
3
Italian Lier
May 1991
Italy
italy is make italian pizza and he lied it has ice cream on it.
101
Super Lier
November 2011
USA
a american lied and lied and keep lieing and lied and a person stop makeing him lie.
106
Super One
December 2010
Canada
Super number 1 pulls up pranks and lies.
Episode 3: Run-Offer
Edit
Originally aired April 17, 2012
Edit
Episode 4: Whats Lied On
Edit
Originally aired April 24, 2012
Edit
Episode 5: Come On Lies
Edit
Originally aired May 1, 2012
Edit
Episode 6: Whats On
Edit
Originally aired May 8, 2012
Edit
Episode 7A: War Lies Part 1
Edit
Originally aired May 15, 2012
Edit
Episode 7B: War Lies Part 2
Edit
Originally aired May 15, 2012
Edit
Episode 8: Cartoons Rock
Edit
Originally aired May 22, 2012
Edit
Episode 9: Can Of Lies
Edit
Originally aired May 29, 2012
Edit
Episode 10: MMMMystery of The Missing Person
Edit
Originally aired June 5, 2012
Edit
Episode 11: Whats On June Fools Today
Edit
Originally aired June 12, 2012
Edit
Episode 12: Fuller Day
Edit
Originally aired June 19, 2012
Edit
Episode 13: The Final Lie
Edit
Originally aired June 26, 2012
Edit
Episode 14: Filled The Bottle Up
Edit
Originally aired July 4, 2012
Edit
References
Edit
External links
Edit
[http://www.imdb.com/title/tt1589957/{{DEFAULTSORT:1000 &nbsp