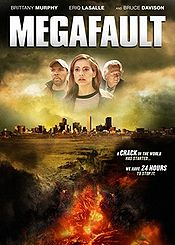 Template:Infobox film
MegaFault is a 2009 disaster film, directed by David Michael Latt, starring Brittany Murphy and Eriq Lasalle [1]. It is one of the last films which has Murphy in it, as she died several weeks after its premiere.
In West Virginia, Charley "Boomer" Baxter is controlling the position of mountaintop-depletion blasts. He detonates the TNT, and an enormous earthquake liquefies the area. After a few hours, Dr. Amy Lane, a government seismologist, reaches the quake's epicenter. Dr. Lane realizes that the primary quake has opened a deep fault which runs through the center of North America. Dr. Lane and Boomer must run toward the mighty break in the ground, inventing a plan to stop the next quake.
Brittany Murphy as Dr. Amy Lane
Eriq La Salle as Boomer
Justin Hartley as Dan Lane
Bruce Davison as Dr. Mark Rhodes
Paul Logan as Major Boyd Grayson
Dana Tomasko as Female Tech
Anya Benton as Radio Dispatcher
Jack P. Downing as General Banks
Sarah Garvey as Jerry Blair
A.J. Haut as Guard 1
Sheila Heubach
Andrew Stephen Pratt as Officer Armstrong
Production
Edit
The film is a Sci-Fi original movie and is Brittany Murphy's final TV role as she died unexpectedly on 20 December 2009.
Soundtrack
Edit
The soundtrack featured include Victoria Mazze, Chris Ridenhour and The Divine Madness [2].
It premiered on 10 October 2009 on the Syfy channel [3] and was released on DVD on 24 November 2009 [4].
References
Edit
External links
Edit
&nbsp